News from Visitation Province
Associate Coordinators met in Montreal this past week
Mary Myers, Visitation Central, thanked Chef Shawn who prepared such wonderful meals for us.
Peace by Chocolate was offered as a thank you to the Sisters of the Mother House for being so gracious to us.
A special thank you from all of us to Sister Patricia Simpson for the amazing tour of Bon Secours Museum. We had an incredible experience with a very amazing teacher.
Thanks again, Sister Pat!
Some of the Associates from Montreal joined us for Mass. Sister Maura McGrath and Sister Lorraine Costello were also present.
Dianne MacAskill and Donna MacIntyre
---
Visitation East
Movie:
The Fablemans is an entertaining movie by Steven Spielberg which is a semi-autobiographical look at his childhood and adolescence. It traces the roots of a desire to be a filmmaker, in spite of parental expectations over the years that he choose a more traditional career path. Although there are many humorous moments the movie making provides him with a way of dealing with complex family dynamics and the anti-Jewish actions he experienced in high school.
Kathy Kelly, Associate
A tea and talk was held at Holy Redeemer Convent, Sydney, NS, on March 28, 2023. This was an opportunity to gather after COVID restrictions and those in attendance enjoyed the conversations. Thank you to Sister Agnes Campbell and her committee for the beginning of future chats.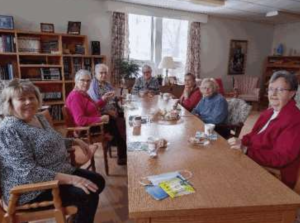 Dianne MacAskill Associate Coordinator
---
Pope Francis: Ten Years of Elected Pope – Dr. Michael Higgins
Dr. Michael Higgins is well known as an academic, a writer, a historian, a broadcaster, an author of numerous academic studies and biographies, and a regular contributor to The Tablet (London), Commonweal (US) and The Globe and Mail.
Michael will be doing synodal coverage for Paulist Press in October. He was in Sydney, Nova Scotia last weekend giving a lecture on Pope Francis in this 10th Anniversary Year. The event was live-streamed. Michael spoke about the popularity of the Pope, inside and outside the Church, and also of the resistance he meets. He said there is resistance to Francis' folksy style, his pastoral priorities, and his "Who am I to judge" response at times. Michael is confident that Francis is a survivor; the synod will be a success and a defining piece of the Pope's legacy.
Eleanor McCloskey, CND
---
New climate report: We do not have time to waste on false solutions
This past week, the international authority on climate science released its new Synthesis Report on the current status of climate change, its impacts and risks, and our options to adapt to and confront the crisis in these pivotal years ahead.
A rapid phaseout of fossil fuels, accompanied by a rollout of renewable energy, is the clearest and most certain path to avoid 1.5 degrees C of warming. We need to push world leaders, and keep pushing for a just, fossil-free future! JPIC is aware and very interested in working for the rapid phaseout of fossil fuels (oil, coal and gas).
Teresa McKerral, with the JPIC Core Committee
---
On the Protection of refugees and Migrants
"No one must be excluded. God's plan is essentially inclusive and gives priority to those living on the existential peripheries. Among them are many migrants and refugees, displaced persons, and victims of trafficking. The Kingdom of God is to be built with them, for without them, it would not be the Kingdom that God wants." – Message of His Holiness Pope Francis for World Day of Migrants and Refugees 2022
On Friday, March 24th the government announced expansion of the Safe Third Country Agreement (STCA) to the entire USA/Canada border including irregular crossings such as Roxham Road. What this means is that people can no longer cross into Canada via the U.S. borders seeking asylum and refugee status. This is very concerning as the Canadian Council of refugees writes, "The Agreement will force more people back to the US, where they will be at risk of arbitrary detention and potential return to persecution and possibly death." As well, those who will still be attempting to enter Canada will be at a higher risk of harm and exploitation as they turn to smugglers. Those who are fleeing from persecution and seeking refuge deserve to be protected, based on not only their human rights but their inherent human dignity.
Look out for more opportunities to learn and get involved in protecting the rights of refugees and migrants!
Read the Canadian Council of Refugees statement here: https://ccrweb.ca/en/statement- expansion-safe-third-country-agreement
~Ruva Gwekwerere, JPIC Coordinator
*Image from https://roxham.nfb.ca/ a great resource to learn more!